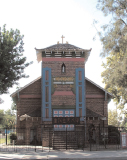 In 1932 and 1933, at the height of the depression, there were old Chinese laborers living in the Tong houses in China Alley. The Chinese gambling houses had always provided food for these elderly and often ill members of the Chinese community. But now the gambling houses did not have means to provide.

Mrs. Allen Mar Sr., who was a catholic, went to the Catholic Charities for help for these unfortunate people, and it was given. Later she asked for help for the women and children. She wanted to help them with their English and teach the girls to sew and their Catechism. The Most Rev. Bishop P. Scher granted her wish. The Sisters of the Holy Family agreed to teach.

On February 24, 1934, in an old rented storeroom, the school was opened and the Chinese children came.

In June 1963, four lots were purchased at C and Tulare streets for a new Chapel to be named St. Genevieve's. The church is Chinese style and painted in vermillion, cobalt blue and gold; it seats 200. Wooden statues of Our Lady and St. Joseph, both with Chinese features, were brought from Italy. The stations of the cross, also with Chinese features were brought from Taiwan as were statues of Mother Mary and St. Joseph, both Chinese features and clothing. St. Genevieve's is believed to be the smallest parish church in the world. It is one block square.